Trailed Cannon Robotic Mistblower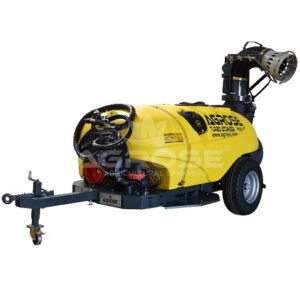 It is used in orchards having high trees and palms, it has a robotic head that can rotate horizontally and vertically and sprays for a high distance and height, this equipment is towed behind a tractor, it is a heavy iron chassis, equipped with wheels and a drawbar, the equipment is installed on it as follows:
1-      A tank of polyethylene for the chemical substance, a capacity of (1000 or 2000) liters as needed, installed on the chassis and equipped with an agitator to stir the chemical liquid for good mixing and not to precipitate the chemicals at the bottom of the tank.
2-      Heavy iron chassis coated with anti-corrosion paint, equipped with a rotatable drawbar that can be changed in length and width.
3-      A pure water tank to clean the user's hands and tools.
4- An additional tank to clean the equipment.
5- The main tank filled automatically with a filter.
6- An external filter from the tank to the rest of the connections and spray nozzles, equipped with a one-way protection valve.
7- Diaphragm Pump with pressure of 50 bar, flow rate of 145 liter/min and rpm of 540 r/min takes its motion from the tractor engine by a cardan shaft.
8- Robotic cannon for spraying can rotates 360 degree in elevation and 180 degree in vertically.
9- Anti-drip brass nozzles installed on the ends of the cannon body can be rotated around its axis in order to adjust short and long distances.
10- Cannon fan with two speeds controlled by a gearbox.
11- Spraying range reaches to 45 meter in horizontal distance and 25 meter in height.
12- The horse power of required tractor is 80 hp.
13- Dimensions of the equipment is (350 x 150 x310) (L x W x H).
PHONE
+202 26205038 +202 26205039
E-MAIL
sales@agrit.net info@agrit.net technical@agrit.net techoffice@agrit.net